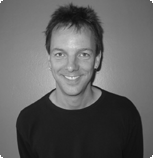 Steve Mack has spent the last eight years at the forefront of the streaming media industry. He is a principal and founder of LUX Media.
An accomplished author, Steve wrote The Streaming Media Bible for Hungry Minds (published Spring 2002), the defacto standard text on the subject. In 1999 he wrote an article for Wiley and Sons' Encyclopedia of Electrical and Electronics Engineering entitled Broadcasting on the Internet. He has a monthly column in Streaming Magazine and regularly contributes to various web publications.
Steve Mack has produced some of the largest and most prestigious Internet broadcasts, including U2 live from Notre Dame (Yahoo Internet Magazine's "Top of the Net for 2001"), the Rolling Stones Bridges to Babylon tour, Elton John's Oscar Party, the WOMAD festival, Bumbershoot, the Tibetan Freedom Festivals, The New York Digital Club Festivals, the MTV Europe Awards, President Clinton's Inaugural address, and the first ever public live Internet broadcast of a Seattle Mariners game in 1995.
Steve Mack is a popular and sought-after public speaker, having presented and given workshops at the National Association of Broadcasters, Internet World, the RealConference, Streaming Media East and West, and South by Southwest. He also chaired the Internet Audio Workshop at the 105th Audio Engineering Society conference in September 1998.
Previously at RealNetworks for five years as Executive Producer of New Programming and Special Events, Steve worked with high-profile customers and partners to create cutting-edge programming and presentations. Prior to this, Steve managed the RealNetworks Media Lab, where he oversaw the team responsible for the majority of content created for the RealNetworks web sites.
Steve is a member of the Audio Engineering Society and on the board of the International Webcasting Organization. He is also on the board of advisors for Rock & Roar, a non-profit organization dedicated to raising awareness of endangered species through cutting edge new media presentations. He volunteers for the Northwest Environment Watch, a non-profit organization dedicated to a sustainable economy in the Pacific Northwest, and in his spare time maintains the Harry Shearer web site.
Before his current career in streaming media, Steve was a professional musician traveling the world and releasing five albums' worth of material with critically acclaimed Irish rock group That Petrol Emotion. During this time he built, owned, and operated Bang Bang Studios in London, England, a commercial 24-track recording studio where he produced and engineered hundreds of releases. He is still active in the music industry as a producer/engineer and solo performer.